Meet Dr. Dustin Morton
A Defining Conversation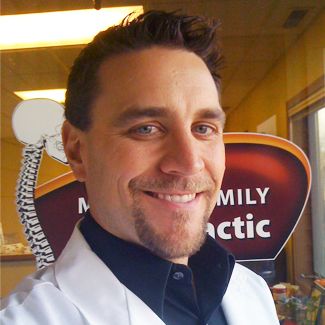 The first exposure to chiropractic care Dr. Morton had was as an undergrad. At the time he was dating a young woman whose father was a chiropractor. He asked Dr. Morton what he wanted to do with his life.
Telling the father that he was going study premed to be a "doctor doctor" the chiropractor said, "That's great. We need those guys, but if you become a doctor, you're going to get patients who are sick and more likely will watch them get sicker." The chiropractor added, "My patients come into me sick, and I watch them get better, and I don't have to give them pills or cut them open to do it."
Embarking on the Path to Becoming a Chiropractor
Dr. Morton's conversation with that chiropractor stuck with him, and he eventually looked more into becoming a chiropractor. He found the natural aspect of chiropractic highly appealing. "I don't have to give the body anything or take anything away from it to let it heal itself."
He earned his Doctor of Chiropractic from National University of Health Sciences in Lombard, Illinois. He also took a postgraduate course in managing TMJ with chiropractic, and he pursued additional education in pediatric chiropractic care.
What's Your Life Effect?
There's a phrase Dr. Morton often uses with practice members. He asks them what their life effect is. In other words, he wants to know what it is in life that's important to them. Most people think it's pain that prompts them to come into the office, but it's usually that they can't do something that's essential to them. Chiropractic allows people to get back to all the activities in life they love.
CHIROPRACTIC CARE »
Enjoying an Active Life in Vicksburg
When he's not at the practice, Dr. Morton enjoys spending time with his wife Dusty. He also has a daughter who's currently in college. Whenever possible, he volunteers and performs at The Kalamazoo Civic Theatre, the third largest community theater in the country. While he acts, Dusty does stage managing. He also is an avid disc golf player. He and Dusty also enjoy building and running a haunted house at Halloween time for the local chamber of commerce.
Contact Morton Family Chiropractic today to schedule an appointment with Dr. Morton!

Chiropractor Vicksburg | (269) 649-0800